Living in Saipan: Cost of Living, Culture, and Things to Do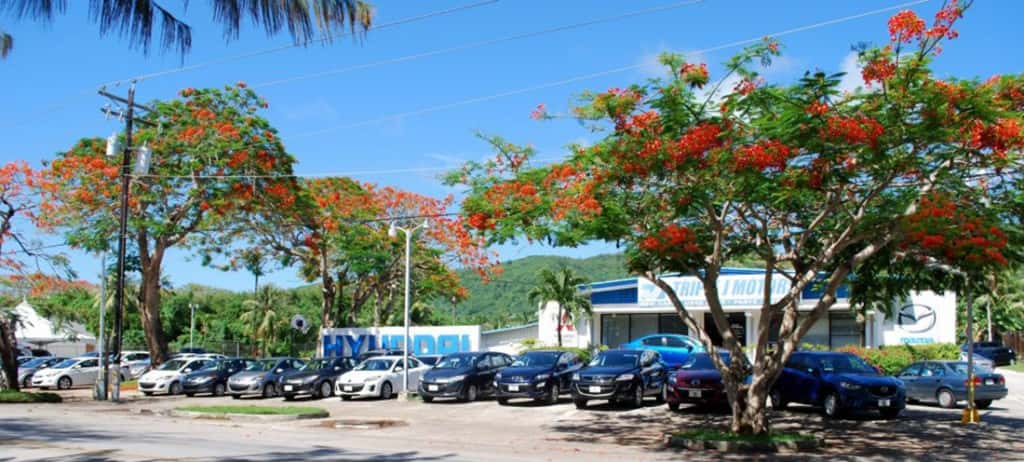 The largest of the Northern Mariana Islands, Saipan offers residents and visitors miles upon miles of incredible shoreline, views of beautiful mountainous geological formations, and a variety of lively cultural activities. So what is life in Saipan actually like? Get a better idea of daily life on the island with this guide from your Chalan Kanoa area auto dealership in Saipan. Contact us for more information on living in Saipan and our inventory of new cars today!
Where Is Saipan?
"Where is Saipan" is a question that we often get from our customers. If you're moving to Saipan, it's the largest island of the North Mariana Islands in the Pacific, which is not too far from Guam, another American territory. Life in Saipan is dreamy and tropical; a perfect place to raise a family.
How Big Is Saipan
Another common that we get from people thinking about moving to Saipan is, "how big is Saipan?" People in Saipan will tell you that, our island isn't all that big. Its max length is 11.99 miles and its max width is 5.592 miles. Even though Saipan might seem small, there's a lot to do here!
Can An American Citizen Purchase Property In Saipan?
According to CNMI Constitution at Article XII and the Covenant that created the political union between the Northern Mariana Islands and the United States, only the people of Northern Mariana Island descent can own land. However, foreigners can lease property for a limited period of limited, which can stretch to 55 years!
Saipan Nature
From picturesque beaches to mountains and parks, life in Saipan offers a tremendous array of outdoor activities, including highlights such as:
The Grotto caverns and caves
Forbidden Island
Last Command Post Park
Here at Triple J Saipan, we're always looking for new things to do on Saipan! Check out our guides to this island's premier golf courses and diving sites, or let us help you plan a trip to the Northern Marina Islands.
Saipan Population
There are around 50,000 people on the island of Saipan, with residents hailing from many different heritages and backgrounds. Here's how the demographics of the people in Saipan break down today:
Filipino (35%)
Pacific Islander (24%)
Chinese (4%)
White (2%)
Korean (1.5%)
Japanese (1%)
Saipan Restaurants
Saipan might not be the largest island in the world, but it is home to a wide variety of great restaurants. In fact, the Triple J network even assists in operating several of the island's most popular dining destinations, including each of the following:
Truong's Vietnamese Restaurant
Capricciosa
Tony Roma's
Great Harvest Bread Company
Apartments on Saipan
As with any home, the cost of your living situation will vary depending on the size and location of the apartment you choose. Rent will generally hover within the following range:
$350 for a small studio
$650 for a studio in an upscale area
$650 for a larger apartment
$1,100 for a larger apartment in an upscale area
Importing and Register Vehicles in Saipan
Now, to the part about cars! At Triple J Saipan, you can purchase the vehicles you've been accustomed to and we can help you register the vehicles at our Saipan location. The vehicle import process is made easier at Triple J Saipan and we can help you every step of the way. By stopping by our dealership, you can get one-on-one service with our team of specialists today!
What Time is it in Saipan?
What is the current time in Saipan? Saipan is part of the Chamorro Standard Time Zone (CHST). Guam and the Northern Marina Islands use Chamorro Standard Time all year round. It is ten hours ahead of Coordinated Universal Time (UTC). Daylight Savings Time is not observed in this region.
Cost of Living in Saipan
Affordable rent makes the Saipan cost of living manageable for a wide variety of people. However, although rent is a good barometer of how expensive it is to live somewhere, it's certainly not the only factor that you should consider if you're planning a move.
Here's a look at what you can expect to pay for food, entertainment, and other expenses while you're living in Saipan:
Rent – $350-1100
Utilities – $110
1 liter of gas – $1.20 (around $5/gallon)
Doctor visit – $115
Dinner at a Restaurant – $30
Lunch out – $10
Cocktail drink – $12
Eggs – $4.10/dozen
Milk – $2.29/quart
Bread – $5/loaf
Of course, many will find it useful to own a car when they're planning their adventures on Saipan. Here at Triple J Saipan, we're happy to make the costs of ownership as low as possible for our friends and neighbors in the area. If you're trying to bring down the cost of living in Saipan, you may want to check out our new vehicle specials or our used models priced under $10K.
Learn More About Life in Saipan with Triple J Motors
Find out about other things to do on Saipan and more about living in Saipan with Triple J Saipan, and buy your next car from our dealership, located on Beach Road.
More Guides to Living in Saipan
With its beautiful beaches and the wide variety of marine activities available, Managaha Island is one of the most popular destinations for visitors to the CNMI. It is also an official historic district and is listed on the National Register of Historic Places. Learn more about Managaha Island Historic District in this guide from Triple J Saipan….

Whether you're just visiting, or you're thinking about living in Saipan, there are plenty of things to keep you occupied day and night. Check out our list of the best picks on the islands to spend more time enjoying our island and less time looking for creative things to do. Read More Local Saipan Guides…

If you're planning a visit to Saipan and the CNMI, you'll find plenty to do and more places to explore than you'll have time for. These suggestions, however, will help you make the most of your time so you can see everything you want before you have to head home. About Our Community Involvement Anatan…