What Features are in Mazda i-ACTIVSENSE®?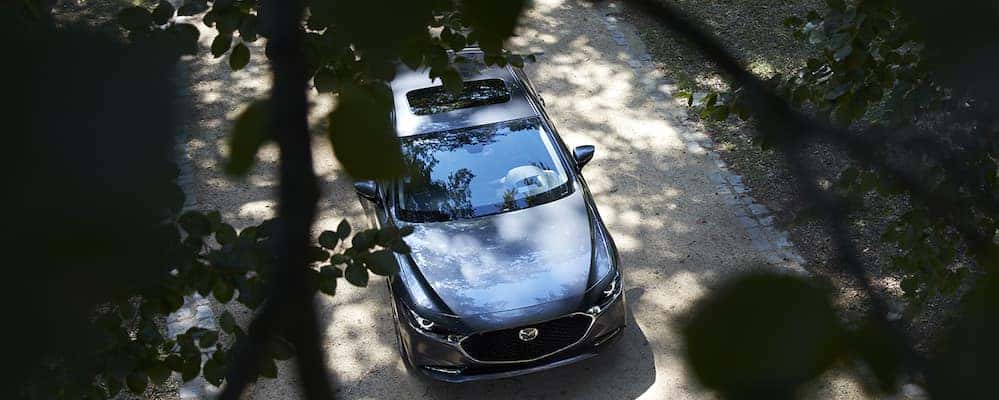 Mazda i-ACTIVSENSE® is a suite of active driver-assist technology features that monitor road conditions and traffic to increase driver awareness, and then make automatic adjustments to lower the likelihood and impact of a collision. Explore features like Mazda Lane Keep Assist in detail below, and then get in touch with Triple J Saipan to experience Mazda i-ACTIVSENSE® features and the i-ACTIV AWD® system first-hand with a test drive.
What are the i-ACTIVSENSE® Safety Features?
Mazda Lane Keep Assist
Using a windshield-mounted camera, Mazda Lane Keep Assist recognizes lane markings and activates steering assistance if your vehicle drifts out of your lane while traveling above 37 mph.
Adaptive Front-Lighting System (AFS)
Driving on the smaller Saipan roads can feel unsafe if there's not enough light. Drivers can use the AFS system to turn the headlights – revealing what's around the bend.
High-Beam Control (HBC)
The i-ACTIVSENSE® suite combines AFS with High-Beam Control for optimal night-driving visibility. HBC detects vehicles approaching from ahead or behind using an advanced camera system, and switches between high and low beams accordingly – keeping you and other drivers safe.
Mazda Radar Cruise Control (MRCC)
Mazda MRCC advanced cruise control employs sonar technology to determine your vehicle's distance from the vehicle in front of you. Driver-assist functions then automatically apply the gas and brakes to maintain a safe following distance.
Distance Recognition Support System (DRSS)
DRSS displays the exact distance between your vehicle and the one directly ahead.
Rear Vehicle Monitoring System (RVM)
Using radar monitors, the RVM system reads the distance of vehicles approaching from behind in adjacent lanes. Saipan drivers will receive aural and visual warnings if RVM detects oncoming traffic in an adjacent lane while the turn signal is  engaged.
Lane Departure Warning System (LDWS)
Much like the Mazda Lane Keep Assist, LDWS's advanced camera system watches lane markings and alerts you if you begin to drift out of your lane. If that happens, you'll receive a warning on your infotainment control center.
Forward Obstruction Warning (FOW)
It can be hard to tell when a vehicle ahead is moving more slowly than you are, especially when you're at cruising speed on the highway outside Saipan. Mazda FOW uses radar technology to detect the presence of another vehicle or an obstruction in your path, and sends a brake warning if the distance between you and the vehicle ahead is decreasing.
Smart City Brake Support
During low-speed driving in downtown Saipan, Smart City Brake Support automatically applies the brakes if the system senses a collision is likely.
Explore Mazda i-ACTIVSENSE® Safety Features at Triple J Saipan
Want to learn more about i-ACTIVSENSE® features like Mazda Radar Cruise Control? Our knowledgeable team is happy to show you everything the Mazda i-ACTIVSENSE® driver-assist features can do for your driving safety in Saipan. We're proud to serve local drivers with quality auto service, maintenance, and replacement parts at a fair price. Schedule expert Mazda service today!
Latest on Mazda Vehicles
The Mazda CX-5 makes striking first impressions on Dandan roads with its sculpted design—but what can you expect when you step inside? A spacious and sophisticated interior that feels like an extension of your home. Explore highlights of the Mazda CX-5 interior below with Triple J Saipan, then experience this SUV for yourself when you take…

When it comes to the Mazda3 tire size, you've got a bunch of options. No matter what your need is in the Dandan area, we at Triple J Saipan can help you pick the right Mazda3 tire size. We have excellent service as well, meaning no matter what problem your car is facing, you've got someone who…

The new 2020 Mazda3 gas mileage reaches up to 27 mpg city/36 mpg highway, making it a competitive vehicle in the Saipan markets for saving on trips to the gas station. Preview the Mazda3 gas mileage, Mazda3 tires, and other pertinent details to consider when looking at the Mazda3 with Triple J Saipan. Contact Us Mazda3 Gas…