2019 Mazda CX-3 Gas Mileage

Driving around Saipan might feel like a long commute, but in the fuel-efficient Mazda CX-3, you won't have to worry about gas mileage. Whether you're an outdoor enthusiast with an active lifestyle or your growing family needs an efficient crossover for all that sporting gear, the gas mileage of the 2019 Mazda CX-3 is sure to impress you. Learn more about Mazda CX-3 gas mileage here, and then head into Triple J Saipan for a test drive.
Mazda CX-3 MPG by Drivetrain
The 2019 Mazda CX-3 is powered by the dynamic 2.0L SKYACTIV®-G four-cylinder engine with 148 hp and 146 lb-ft of torque, which provides plenty of power without sacrificing efficiency. The SKYACTIV®-Drive 6-speed automatic transmission comes with both manual shift and Sport mode, giving you lots of control over your drives around Saipan. Take a look at the Mazda CX-3 MPG:
Mazda CX-3 MPG w/ Front-wheel drive (city): 29 mpg
Mazda CX-3 MPG w/ Front-wheel drive (highway): 34 mpg
Mazda CX-3 MPG w/ i-ACTIV AWD® (city): 27 mpg city
Mazda CX-3 MPG w/ i-ACTIV AWD® (highway): 32 mpg highway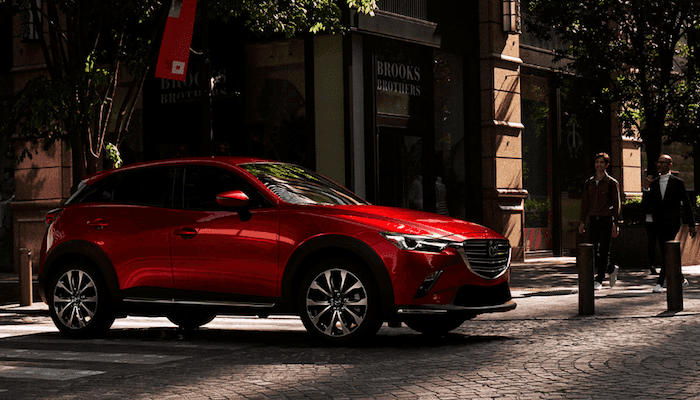 Mazda CX-3 Fuel Capacity
Aside from the incredible fuel efficiency of the 2019 Mazda CX-3, It also boasts a large fuel tank, perfect for those long road trips. In the Mazda CX-3 you can travel longer without searching for the nearest gas station. The front-wheel-drive Mazda CX-3 has a gas tank that holds 12.7 gallons of gas, and the all-wheel drive version has a capacity of 11.9 gallons total.
SKYACTIV®-G TECHNOLOGY Improves MPG
The Mazda CX-3 achieves strong fuel efficiency and outstanding performance due to the range of SKYACTIV® TECHNOLOGY features, such as:
SKYACTIV®-G engine uses high-compression combustion which increases efficiency by 15 percent.
SKYACTIV®-Body and SKYACTIV®-Chassis boost stability while also decreasing weight.
SKYACTIV®-Drive improves your fuel economy between 4 to 7 percent compared to a conventional automatic.
Test Drive a Mazda CX-3 at Triple J Saipan Today!
If you live near Saipan and are impressed with the Mazda CX-3 gas mileage, come into Triple J Saipan for a test drive. You really need to experience the Mazda CX-3 in person to realize what an amazing crossover it is. Our team will do everything they can to get you the keys to your own Mazda CX-3 at a price you can afford. Check out our new vehicle specials and then contact us today!