Which Mazda Cars are AWD?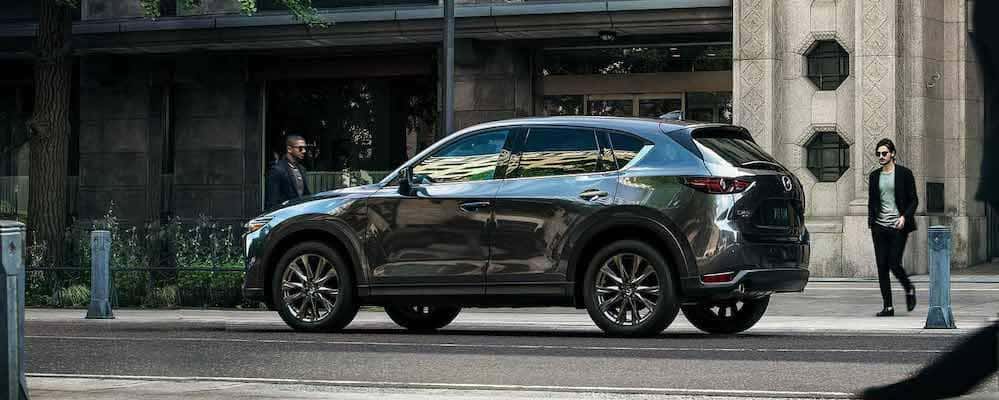 If you are interested in Mazda's compact models, like the Mazda6 or Mazda3, your only option is front-wheel drive. However, you will find the Mazda i-ACTIV AWD® system throughout the Mazda SUV lineup. Peruse our extensive inventory to find a Mazda with AWD that meets your needs and budget.
Which Models Have Mazda AWD?
No matter which Mazda SUV you choose, it can be equipped with i-ACTIV AWD®. It comes standard on higher trim levels, and it is an available option for lower trims. Find the AWD Mazda that checks all of the boxes on your wishlist today. If you want to find a Mazda with AWD, here are your options:
2019 Mazda CX-3
CX-3 Sport
CX-3 Touring
CX-3 Grand Touring
2019 Mazda CX-5
CX-5 Sport
CX-5 Touring
CX-5 Grand Touring
CX-5 Grand Touring Reserve
CX-5 Signature
2019 Mazda CX-9
CX-9 Sport
CX-9 Touring
CX-9 Grand Touring
CX-9 Signature
For a smooth and efficient ride with great handling, a Mazda SUV is a perfect choice. Throughout the cabin, you will find innovative features that provide comfort and convenience for CNMI drivers. Stop by Triple J Saipan today to set up a test drive.
What is the i-ACTIV AWD® System?
The i-ACTIV AWD® system is Mazda's new all-wheel drive technology that allows for more control when driving conditions are less than ideal in Saipan. How does this system work? Sensors monitor road conditions, interpret the information, and adjust the torque delivered to the axles. Because of this, i-ACTIV AWD® is considered as an active torque split AWD system. The i-ACTIV AWD® system is also paired with the Front-Wheel Slip-Warning Detection System. This system also makes use of sensors to monitor wheel slips. Torque is then sent to the rear wheels to help you take control once again.
Find Mazda AWD Cars with Triple J Saipan
While Mazda AWD sedans and cars are still in the making, there are several powerful and efficient AWD SUV options worth considering. If you would like to know about any of your options or you want to set up a test drive, contact Triple J Saipan or stop by the dealership in person.
Latest on Mazda Model Features
When it comes to the Mazda3 tire size, you've got a bunch of options. No matter what your need is in the Capitol Hill area, we at Triple J Saipan can help you pick the right Mazda3 tire size. We have excellent service as well, meaning no matter what problem your car is facing, you've got someone who…

The new 2020 Mazda3 gas mileage reaches up to 27 mpg city/36 mpg highway, making it a competitive vehicle in the Saipan markets for saving on trips to the gas station. Preview the Mazda3 gas mileage, Mazda3 tires, and other pertinent details to consider when looking at the Mazda3 with Triple J Saipan. Contact Us Mazda3 Gas…

The 2020 Mazda CX-5 is a superb SUV with everything you need to enjoy your commute or road trips around Saipan. The Mazda CX-5 is packed with great features and technology as well as unmistakable style and performance. Learn more about the five Mazda CX-5 trims below. 2020 Mazda CX-5 Trim Comparison 2020 Mazda CX-5…