How to Connect to Hyundai Bluetooth®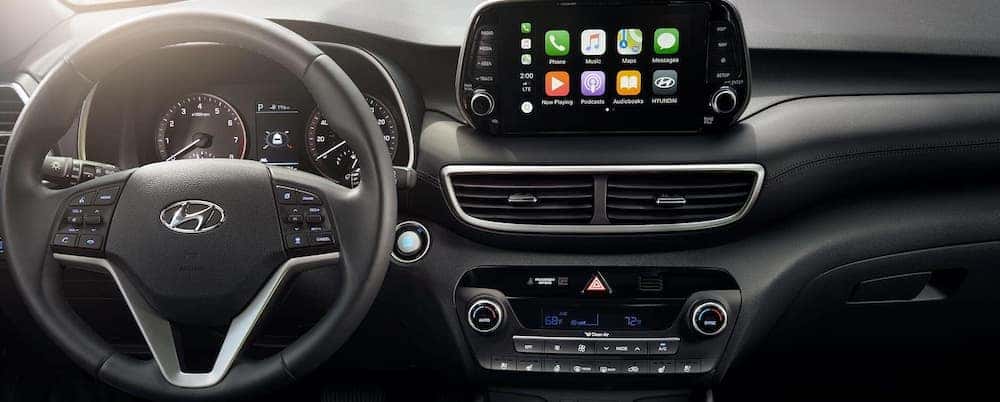 As most Saipan and CNMI area drivers know, the Bluetooth® feature on your Hyundai gives you easy, hands-free access to your phone, allowing you to make and receive phone calls, as well as access your apps and music, while keeping your hands on the wheel and your eyes on the road on your way to one of our Triple J Restaurants. It's just one of many convenient tech features you'll find on new Hyundai models here at Triple J Saipan.
Steps for Connecting to Hyundai Bluetooth®
Connecting your phone to your Hyundai Bluetooth® is a very simple procedure and should only take you a few minutes to complete. Follow these steps to connect Bluetooth® to your Hyundai Tucson, Elantra, or any other Bluetooth® equipped Hyundai Crossover, SUV, or car.
Make sure the vehicle gear shift is set at PARK.
Turn the key to the on position.
Press the "Bluetooth®" icon on the display screen, then press "Bluetooth® Connection".
Press "Add New". Then turn on the Bluetooth® feature on your phone, which is most often found in the phone settings.
Select the device, which will be the whatever the name of your vehicle is, Sonata, Santa Fe, Tucson, Elantra, etc.
Some phones require that you enter a passkey. If you are prompted, enter the passkey that is shown on the vehicle display screen.
You will then receive a message on the display screen confirming that your phone has successfully been paired with your Hyundai Bluetooth®.
Your contact list should automatically be transferred to the vehicle. On some phones you will be asked to approve the download. It will take a few minutes for downloading to be completed.
Get Help with All of Your Hyundai Tech at Triple J Saipan
Please feel free to contact us if you run into any issues when pairing your phone to your Hyundai Elantra Bluetooth®, or any other Hyundai model. We are always happy to help drivers from across the CNMI learn how to fully enjoy Bluetooth®, BlueLink® Connected Car System, Apple CarPlay™ and  Android Auto™, or any of the other smart tech features offered on your new Hyundai vehicle. Find out how to upgrade your Hyundai Navigation system, and give us a call at 674-234-7133 if you need any assistance.
---
Shop Hyundai Bluetooth® Equipped Vehicles
---
More on Hyundai Models on Saipan
The 2020 Hyundai Kona is an ideal SUV for many reasons: Excellent safety features, integrative technology, and a sleek design that makes it stand out from its competition. The Hyundai Kona's 2020 trim levels offer a variety of interior and exterior colors that make it a sophisticated ride. At Triple J Saipan, we've broken down each trim…

The 2019 Hyundai Kona is one of the most celebrated vehicles in the compact SUV class, and we here at Triple J Saipan think that it's perfect for drivers on Saipan. The current model is available in five different trim levels and a variety of colors, with all-wheel drive available across the lineup. To find the perfect…

Here on Saipan, drivers love the capable 2019 Hyundai Tucson for its unique blend of practicality and style. As part of this compact crossover's smartly designed interior, you'll enjoy a flexible storage space that will help you facilitate new and exciting adventures. Don't just take our word for it. Take a closer look at the…