How to Connect to Hyundai Bluetooth®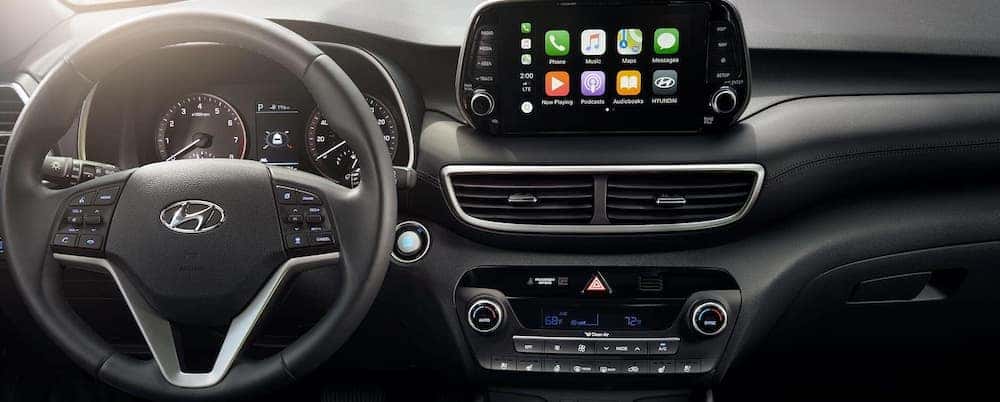 As most Saipan and CNMI area drivers know, the Bluetooth® feature on your Hyundai gives you easy, hands-free access to your phone, allowing you to make and receive phone calls, as well as access your apps and music, while keeping your hands on the wheel and your eyes on the road on your way to one of our Triple J Restaurants. It's just one of many convenient tech features you'll find on new Hyundai models here at Triple J Saipan.
Steps for Connecting to Hyundai Bluetooth®
Connecting your phone to your Hyundai Bluetooth® is a very simple procedure and should only take you a few minutes to complete. Follow these steps to connect Bluetooth® to your Hyundai Tucson, Elantra, or any other Bluetooth® equipped Hyundai Crossover, SUV, or car.
Make sure the vehicle gear shift is set at PARK.
Turn the key to the on position.
Press the "Bluetooth®" icon on the display screen, then press the "Bluetooth® Connection."
Press "Add New." Then turn on the Bluetooth® feature on your phone, which is most often found in the phone settings.
Select the device, which will be whatever the name of your vehicle is, Sonata, Santa Fe, Tucson, Elantra, etc.
Some phones require that you enter a passkey. If you are prompted, enter the passkey that is shown on the vehicle display screen.
You will then receive a message on the display screen confirming that your phone has successfully been paired with your Hyundai Bluetooth®.
Your contact list should automatically be transferred to the vehicle. On some phones, you will be asked to approve the download. It will take a few minutes for downloading to be completed.
Why Won't My Phone Connect to Hyundai Bluetooth?
What happens if you attempt the steps above, but you are still unable to pair your phone to Hyundai Bluetooth? If this is the first time you have tried to connect your phone, it could be because your phone is not compatible with the Hyundai Bluetooth system. It is easy to check if you own a compatible phone. If compatibility is not the issue, there are a few other reasons why you may be experiencing problems with pairing your phone.
Your phone may have a trust mode. This will have to be set up before you are able to connect to Hyundai Bluetooth.
You may have downloaded another app that prevents your phone from the pairing. Try to delete the automatic pairing function and repeat the process above.
If you recently updated your operating system, you may also experience issues with pairing. Once again, try deleting the profile from the phone or vehicle like in the example above, and try to sync your phone.
When you step inside the cabin of your Hyundai and start the vehicle, the Bluetooth® system will start searching for a device that can be paired. This lasts for 30 seconds. If your phone was not in the vehicle for those 30 seconds, it will need to be paired manually.
If your phone is not able to connect automatically, there may be a setting that needs to be engaged before connecting to Hyundai Bluetooth®.
Get Help with All of Your Hyundai Tech at Triple J Saipan
Please feel free to contact us if you run into any issues when pairing your phone to your Hyundai Elantra Bluetooth®, or any other Hyundai model. We are always happy to help drivers from across the CNMI learn how to fully enjoy Bluetooth®, BlueLink® Connected Car System, Apple CarPlay™ and  Android Auto™, or any of the other smart tech features offered on your new Hyundai vehicle. Find out how to upgrade your Hyundai Navigation system, and give us a call at 674-234-7133 if you need any assistance.
---
Shop Hyundai Bluetooth® Equipped Vehicles
---
More on Hyundai Models on Saipan
With innovative technology and safety features, the versatile Tucson is sure to bring comfort and convenience to your trips around Capitol Hill. The 2022 Hyundai Tucson dimensions, impressive amenities, and classic Hyundai Tucson interior color allow you to personalize your trips around town with a model that not only fits your needs, but also your…

If you are looking for a fuel-efficient SUV to upgrade your daily commute in Kagman and save money at the pump, the 2022 Hyundai Santa Fe gas mileage does just that. Travel further and save more on gas each year while enjoying all the benefits that come with an SUV model. The Hyundai Santa Fe…

The new Hyundai Santa Cruz configurations have something for everyone, especially for the adventurous type. The Santa Cruz has been one of the most anticipated vehicles in Capitol Hill and is popular due to its unique style and impeccable performance. So, you might be wondering, "How much is the 2022 Hyundai Santa Cruz? Find out…