How Long Does an Oil Change Typically Take?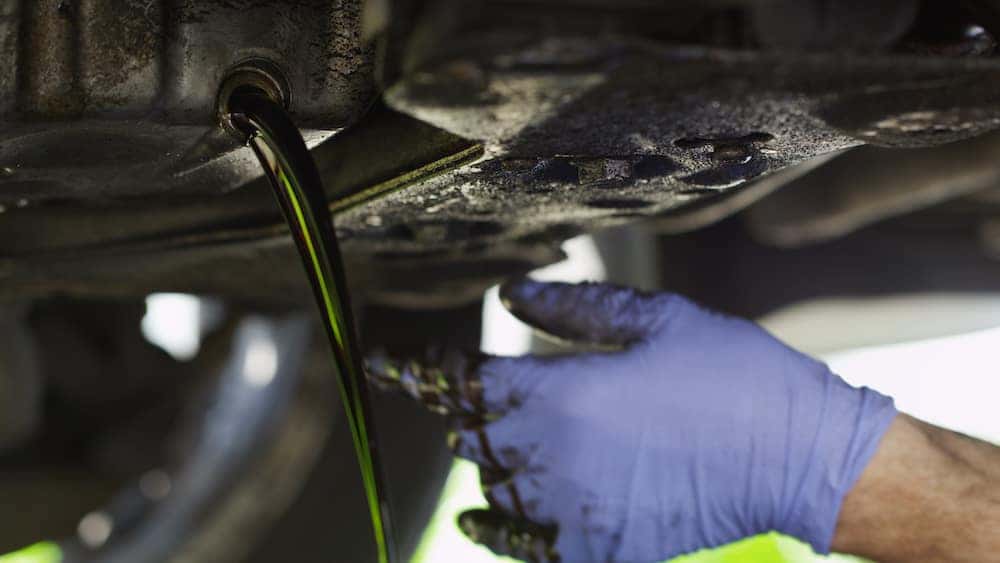 In general, the full process of an oil change take less than an hour. However, this will vary depending on wait times (usually wait times are small or nonexistent). For a better idea of the current wait times for oil changes at our dealership, contact our service center today.
More Info on Oil Changes at Triple J Saipan
If it's time to get an oil change, our service center at Triple J Saipan delivers the following benefits:
Our skilled service team and reliable equipment allows us to work on more cars than a generic auto shop
Our rotating service specials often offer you oil change coupons and other discounted services to keep up with car maintenance
If you bought a car with Triple J Auto, you can enjoy our Buy With Confidence policy, which provides complimentary car maintenance, including oil changes, for a certain period after buying the vehicle.
Oil Change FAQs
When Should I Change My Oil?
Wondering how often you should change your oil? Experts used to say that you should get an oil change every 3,000 miles; however, these days, conventional wisdom dictates that you should get an oil changes every 5,000 – 7,500 miles. Some models can even go up 10,000 miles between oil changes, but you shouldn't just assume your model can do that. Check your owner's manual for a specific oil change interval for your vehicle.
Does My Car Need Synthetic or Conventional Oil?
Check your owner's manual to see if your vehicle needs synthetic or conventional oil. Although synthetic oil generally costs more than conventional oil, that won't affect that time required for an oil change.
Can I Perform an Oil Change Myself, and How Long Will It Take?
Changing oil yourself is doable if you're a committed DIY-er, but it often both costs less and takes less time to seek help from a dealership like Triple J Saipan when it's time to change your vehicle's oil on Saipan. If you're dead set on changing your own oil, make sure you have the following tools:
New oil
Oil filter
Oil filter gasket
Rubber mallet
Correctly sized wrenches
Jack
Wheel blocks
The amount of time it will take to change your oil yourself will depend on your experience with car maintenance. It could still take less than an hour if you're skilled, but it'll probably take more if this is your first time changing oil.
If you're interested in DIY vehicle care, you should also know how to check your brake fluid levels in a hurry.
Visit Triple J Saipan for a Quick Oil Change!
Our qualified service team can handle any maintenance tasks from oil changes and tire rotations to brake repairs. Call us at 670-322-7133 for more information, or stop into our Saipan car service center for an oil change and an inspection today.
---
More Service Tips From Triple J Saipan
When it comes to the Mazda3 tire size, you've got a bunch of options. No matter what your need is in the Capitol Hill area, we at Triple J Saipan can help you pick the right Mazda3 tire size. We have excellent service as well, meaning no matter what problem your car is facing, you've got someone who…

The alternator has one important job: keeping your car's electrical systems functioning correctly while the engine runs. It creates electric power and is a crucial part of the charging system inside your car. Alternator problems can lead to everything from dim lights to engine stalling. Triple J Saipan's service center is here to fill you in on how…

Fortunately, it's easy to tell when your vehicle needs new brakes. Our service team knows the ins and outs of Hyundai, Mazda, and Mitsubishi vehicles, and we can diagnose brake problems quickly and accurately. Be sure to schedule brake service right away if you notice any of the following red flags during braking: Squealing or…