Hiking on Saipan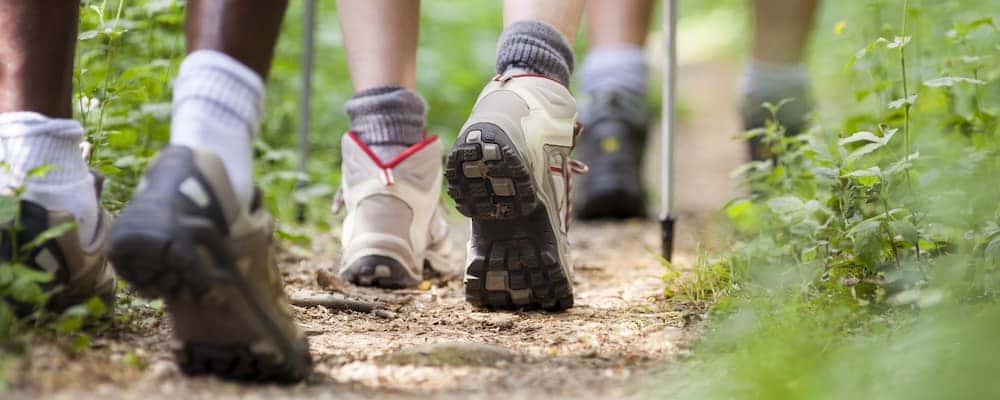 Searching for things to do on Saipan? You're in luck, because even though our island is small, there's no shortage of places to go or things to see. Of course, hiking in Saipan will always be a favorite with locals and visitors alike! Find out what you need to know before you head out on the Saipan trails, and then explore a few of our favorites!
What to Know Before You Go Hiking on Saipan
The Northern Mariana Islands have a hot and humid climate. Remember to exercise caution when you're planning your adventure, and make sure to wear shoes that you trust! It's always a good idea to bring plenty of water along for the journey, and be prepared to face elevation changes that will make the walks seem longer.
Saipan is surrounded by coral reefs. While this makes the island a great place to go snorkeling, it also means that sharp coral rocks can be found scattered at nearly all of Saipan's beaches. Get a pair of reef shoes before you try to head down to the seaside.
Many visitors and residents come to Saipan to take the road less travelled, but what they may not realize is that the less frequented routes may lack the clear indicators and signs that many have become accustomed to.
Trailheads can be hard to spot, and you should take care to prevent yourself from getting lost. Some will be marked with objects that seem out of place, like pink shoes strung up from trees!
The Best Hiking on Saipan
We've chosen some trails with an eye towards our guide to the best views on Saipan, but we've added a few extra destinations that you should check out along the way!
Hike to Old Man By the Sea
If you're interested in a short forest hike to a well-loved beach, hiking to the Old Man By the Sea is a great idea. It's suitable for a wide range of ages and experience levels, and it ends at a secluded location with an easily-identifiable landmark. Parts of the trail are difficult, but you'll find ropes to help along the way.
Head down Talafofo Road, and find the entrance to the trail just after the intersection with Egigi road. The hike itself could take you as little as fifteen minutes or as long as forty-five, depending on how comfortable you are with the rocks, vines, and twisted trees. Although you'll reach a beach at the end, it's not ideal for snorkeling.
Hiking on Forbidden Island
One could spend hours wandering around the Forbidden Island, considered by many to be one of the island's "Must-See" destinations. However, for hiking enthusiasts, the real adventure just might be the hike you have to take to get there!
Those who've hit this trail before know that the route from Kagman to Forbidden Island is no easy trek. You should be in tip-top shape if you want to go the distance, and the trail can be downright dangerous when wet. Still, once the trees open up and you catch a view of the island in its entirety, you'll know that you made the right choice coming out!
Once you're on Forbidden Island, you'll encounter numerous tide pools and rocky resting places, great for snorkelling, unwinding, or escaping from whatever's holding you back in life!
Hiking on Bird Island
Bird Island is a secluded spot, known for being a destination for a wide variety of local and seafaring birds that visitors love to photograph. However, while most are content to view this island from a distance, the veteran birder just might want to take a walk down and step foot on the island itself.
The hike itself isn't difficult, but it still feels special because you have to time it just right! The rainy season will make the trail too muddy and slippery for most hikers, but if you come on a sunny day when the tide is low, you'll be able to walk down the trailhead, just past a dirt road that will take you close to the nearby marine sanctuary.
Hike the Mount Tapochau Trail
We've already shown readers how to hike Mount Tapochau in our visitor's guide to the mountain. Suffice it to say here that those who choose to hike the mountain will face an 8.3-mile round trip with strenuous changes in elevation. Veterans will expect as much–after all, you're headed to the highest point on Saipan.
With a souvenir stand and concessions on the top of the mountain, it might not feel like the most out-of-the-way adventure. That said, we still recommend the trip for anyone who's serious about hiking the best trails on the island!
Keep Up with Triple J Saipan for the Best Saipan Activities!
Still not sure how to spend your time exploring the Northern Mariana Islands and the CNMI? Why not check out the Saipan Botanical Garden or take a look at some of the islands' best places to dive.
If you find a great trail and want to share your experiences with neighbors or other visitors, don't hesitate to contact us! We'd be glad to hear from you.